如果你想要在到达 LAE Madrid 学校前就开始自行学习西班牙语,我们在此向你推荐一些实用的apps 和 podcast听力 资源 来满足你不同的需求。 这些资料无论对于初学者还是高阶学习者来说都十分有效,在学习的过程中尝试新的资源和内容总是一件好事,这些软件易于操作便于理解,可谓是十分有效!
.

"Duolingo" is a wonderful place to begin as you learn the Spanish language.  The mood of the app is very relaxed and allows you to learn in a positive, fun environment just like at LAE Madrid! A very cool feature of this app is the translation action; you can insert any text and translate it for quick and easy access to what you need!
.

The "24/7 Spanish tutor" focuses on all you need to enjoy the beautiful Spanish language.  It provides you with categories such as town and country, perfect for learning about the gorgeous city of Madrid, as well as basic phrases.  A neat feature is a question category which may prove to be the most valuable for new speakers as we all know questions are an essential part of everyday life when you're lost!
.
Looking for a fun, effective way to improve your knowledge of Spanish verbs? This app, "Spanish verb champion", is perfect for those of you at LAE Madrid as it focuses on seriously fun Spanish just as we do to improve your speaking skills!
.
The application, "Spanish in a month", uses beautiful images of the Spanish culture to teach the language through image recollection, a great opportunity for those of you who learn effectively through images rather than repetitive word associations.
.

LAE Madrid suggests you a new app, "Learn Spanish", for beginners as it focuses on teaching you many basic words that will familiarize you with the Spanish language and lead you to continuing your map of knowledge! Starting from the basics and building your information base will assist you in your transition to Madrid!
.
If you're looking for an app to take you through many levels of Spanish this is the app for you! "Living Language-Spanish" takes you through essential Spanish, intermediate Spanish and advanced Spanish allowing you to grow and evaluate your improvement!
.

Trying to learn another language? Check out a new app, "Learn a Language with Michel Thomas", LAE Madrid uses this unique app because the learning style is all audio based for a new approach to learn the Spanish language if reading isn't your style!
.

"Spanish Language Guide and Audio" is the perfect app for beginners as it teaches key phrases about many categories that are essential in a new country, especially when speaking a new language! This app will allow you to build confidence on key phrases you will need all over Madrid; LAE Madrid sees this app as a great reference point for new Spanish speakers!
.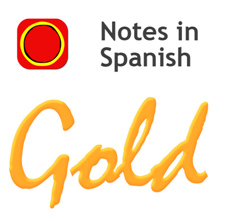 ¨Notes in Spanish¨offers free audio and video that focuses on real-life topics and situations in order to enhance your conversational Spanish skills and keep you interested in each topic while working on your Spanish level.  They have all levels available and are set up to assist anyone from beginners to advance who wish to strengthen their speaking skills and boost their confidence.
.

¨Learn out Loud¨a search engine that focuses on pod cast learning, here you can search for Spanish podcasts and different free resources are available for download. This is a great site if you want to learn about a specific part of the Spanish language or would like to learn a cultural aspect while working on your speaking skills because they have many topics available that are sure to please everyone!