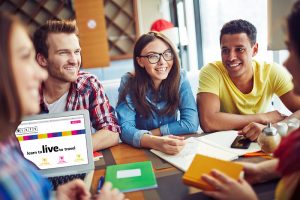 You will study in your small group (average 6 – maximum 8) two evenings a week (3h/week).  The time and day depends on your level so make sure you contact our part-time course advisors and they will tell you the times and days available.  The groups are fun and interactive and it is a great way to meet people who have a more long-term plan to stay in Madrid.  There is tea, coffee and fruit galore to keep you sustained
If you sign up for our part-time classes and you are unable to attend one class, don't worry! If you can email us at least 24 hours in advance, you can recover the class the following week.
If evenings are a logistical challenge, then you might want to consider our 4 hour intensive –  once per month.  The course runs for 3 Saturdays over 3 months and you will know the dates of your classes well in advance.  Most people can find one Saturday a month on which they have no commitments, so doing 4 hours in one fell swoop will more than make it worth your while.  You will have continuity in your group and with the same teacher so you will see progress.   Most of the students have long-term plans and are living in Madrid so you will meet lots of like-minded classmates.