"I have never been to a city  where there is less reason to go to bed, and… if I did go to bed, to sleep" (Earnest Hemingway over Madrid).  Het is echt onmogelijk om geen leuke tijd plezier hebben in Madrid. Het is een fantastische hoofdstad dat iedereen iets te bieden heeft, wat je interesses ook zijn.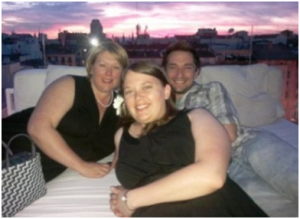 Nachtleven
We beginnen natuurlijk met het Madrileense nachtleven dat ongeëvenaard is. Er zijn hier meer bars per vierkante kilometer dan in welke andere stad ter wereld. Met zo'n mooi weer tijdens het grootste deel van het jaar, zul je je vroege avonden doorbrengen op een terras, terwijl je kan genieten van een drankje met gratis tapa's.
Het is niet ongebruikelijk om door je Spaanse vrienden uitgenodigd te worden voor een diner om 11 uur ´s avonds. En na je siësta 's middags zal je blij zijn om samen te komen rond dit uur. De discotheken zijn open tot ongeveer 6 uur in de ochtend, op tijd om churros met chocolade te eten voor het ontbijt en daarna met de eerste metro naar huis te gaan.
Een rustiger leven
Zoals we allemaal weten, is balans heel belangrijk voor het leven. Dus op de dagen waarop je frisse lucht nodig hebt kun je een van de vele mooie parken in Madrid bezoeken. ´El Retiro´ ligt in het centrum van Madrid en je kunt er rennen, fietsen, skaten, roeien, yoga doen, slapen, en vrijwel alles eigenlijk in dit prachtige park. Voor de studenten die het leuk vinden om te hiken en te mountainbiken, dan is Casa de Campo hét park voor jou. Dit is het grootste stadspark van Europa en was vroeger het Koninklijke jachtgebied.                                                                                                                                                                                                                                                         
Cultuur
Je ervaring in Madrid zou niet compleet zijn zonder de bezoeken aan enkele van de meeste iconische locaties. El Prado is een wereldberoemd museum gevestigd in een bouwkundig wonder. Voor een moderner museum kun je door de hallen van het Reina Sofía museum wandelen. Er zijn zoveel dingen om te zien in Madrid en ons motto is dan ook ´werk hard en ontspan harder´. Naast het plannen van je eigen avonturen, organiseren wij ook uitjes en activiteiten met ons Spaanse Avonturenprogramma, gemaakt om meer interactie te hebben met de lokale bevolking en bovenal om plezier te hebben!