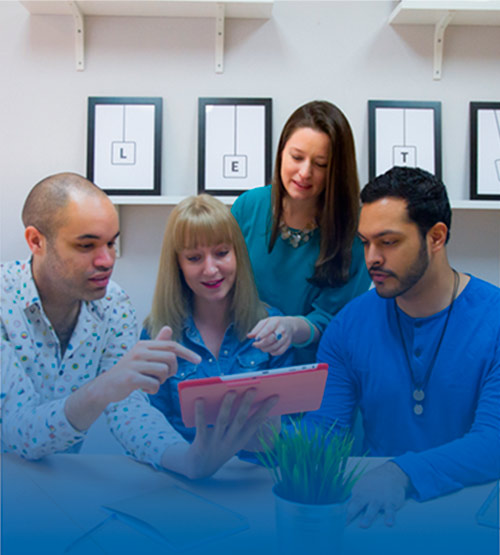 Improve your Spanish quickly and efficiently
Learn as much as possible in a short period of time
Our intensive courses are packed full to the brim to ensure you get the most out of your time with us.
Our Spanish teachers are dynamic and work with a range of methodologies to keep you engaged, focused, and challenged. Our teachers give a lot but they also expect a lot so arrive ready to jump straight in!
To ensure you get plenty of talk time in class, we have an average of 6 Spanish students per class and an absolute maximum of 8.
The school is light, bright, and stocked with books, materials, water, fruit, tea, and coffee so that you have everything you need to progress with your Spanish in the perfect environment.
20 Spanish classes in small groups per week

Level Test (before and after the course)

Level-specific Spanish Course Book or materials

Cultural Activities

Welcome pack

Welcome lunch

Coffee and Current Affairs

Certificate at the end of the course

Library Service

Free Wi-Fi

Student card with discounts benefits
We offer a convenient schedule of Intensive Spanish Courses in the morning and afternoon.
Morning Intensive
Monday – Friday: 9.20-13.00
Afternoon Intensive
Monday – Friday: 13.20 – 17.00
Intensive Spanish Course Schedule Example
Time
Monday
Tuesday
Wednesday
Thursday
Friday
Saturday
09:00-09:20
Welcome & Orientation session
Coffee and Current Affairs
 
Coffee and Current Affairs
 
 
09:20-13:00
Group Spanish Classes*
Group Spanish Classes
Group Spanish Classes
Group Spanish Classes
Group Spanish Classes
Cultural Activity 
13:30-15:00
 
Welcome Lunch
Cultural Activity
Cultural Activity 
Tapas
 
 
Please note: The above schedule is for reference purposes only. Each student will receive their individual schedule before the beginning of the course according to their level and course type. Our Intensive courses start a new cycle of classes every Monday. If you're a complete beginner a new cycle starts 1st and 3rd week of the month. Please check availability.*
Weeks
Price
Week 1 – 6
195€ per week
Week 7 – 15
185€ per week
16 weeks +
175€ per week
+ 40€ enrolment fee*