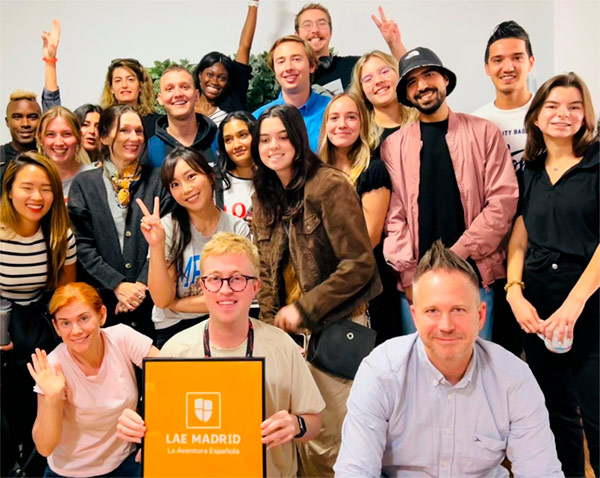 La Aventura Española (LAE Madrid) is an established Spanish Academy in the heart of Madrid accredited by the Instituto Cervantes and member of FEDELE (the Spanish Federation of Associations of Schools of Spanish as a Foreign Language). We have created an authentic immersion experience both online and at our school in Madrid that has helped thousands of students from all over the world to gain confidence and improve their Spanish efficiently, while exploring the capital and better understanding the culture of Spain.
We don't just offer quality Spanish courses though, we are here to make everything to do with Spanish and Spain easier, from showing you around Madrid, to helping you prepare your visa documents to come to Spain, to preparing you for your DELE exam. Fantastic customer service, flexibility, and being your home away from home are just some of the reasons to choose to study Spanish with us.
Location
The adventure begins at our beautiful Spanish school, based in Madrid's Salamanca neighborhood (which has as lots of services, shops, parks, gyms, bars and restaurants) with the perfect learning environment to allow you to get the most out of your Spanish classes.
Our classrooms are clean, well-decorated and fitted with all the technical resources to keep your class fun and connected. We have free Wi-Fi connection throughout the entire school, as well as a computer area for our students that you will have full access to at all times to help you with your Spanish courses. Our Spanish library has dictionaries, reading books, and work books that are free to check out whenever you like!
Metro lines 2, 4, 5 and 6, as well as various bus routes will all get you within five minutes walking distance of LAE Madrid. Have a look on Google Maps for our exact location.
LAE MADRID is designed to be your home away from home!
We are your home away from home! You can use our kitchen and have free tea and coffee and water refills during your time with us. There are also lots of areas for you to relax or study.

Quality assured: Reasons why you'll love studying Spanish with us
We offer a variety of tailored courses for all levels (A1-C2)
Small group sizes help our students build trust with their teachers and classmates. This is one of the easiest ways to get more confident with your language use and start speaking more. At LAE Madrid, we have an average of 6 students in our group Spanish classes
Our qualified, passionate teachers work with you to achieve your goals
You can start your course any week of the year (complete beginners should check availability)
You'll leave with an Instituto Cervantes-accredited certificate confirming your level
We're situated right in the heart of the Salamanca neighborhood of Madrid
We offer a complete immersion methodology – with dynamic and creative classes
Exciting Cultural Activities included in your course
Unrivaled, multilingual customer service
Library rental service for books and videos
Our school is light, bright and has a real 'home' feel! We have coffee, fruit, and a variety of teas available throughout the day for you to enjoy in our break room. Why are these things important? There are many factors that affect your ability to learn, such as motivation, hunger, thirst, tiredness, confidence, etc., so we believe that the better your learning environment, the more effective your learning will be!
Our Spanish-speaking community is ideal for you to achieve your goals and for you to feel at home in Madrid. Our students come back time and time again, sometimes even just to say hello! Whether they have studied at LAE Madrid for a week, or a couple of years, they are all part of the special family that has been created at our school!
If you want to learn Spanish quickly and effectively and have fun while doing it, this is the school for you. We offer you a unique and wonderful learning experience within an environment of academic challenges. Visit us, we want to meet you!
Learning online?
Our online classes are carried out through an online classroom that provides seamless communication with the teacher. We've adapted our methodology to enable our students to feel the benefit of full immersion from the comfort of their own homes.
Ready to start your Aventura Española? Email us at [email protected]
Don't just take our word for it, check out what our students say about us!