Have you made the decision to study Spanish in the home of the Spanish language?  The process of learning a second language is very enriching and the right teachers can keep you motivated to really improve your level and reach your goals.  However, given that there is an overwhelming amount of information about Madrid and Spain and so many Spanish academies that all say they are the best, in this article we give you the inside knowledge of what makes the best Spanish schools and how you can avoid the duds.
1. Accreditated by the Instituto Cervantes
Worldwide, the maximum accreditation for Spanish schools is granted by the Instituto Cervantes. This guarantees that the academy has been through a rigorous process of inspection and that its teachers, resources, materials and quality are of the highest standard.
2. Flexibility
It is important that you aim for an academy that offers you a flexible schedule.  Will you be able to attend class on Fridays whenever you want?  Ask if there is a possibility to make a class up if you have to miss it for whatever reason.  Did you agree to take a class at 16:00 but change your mind after a few classes? An academy that has its students' best interests at heart will always want to fit into your schedule whenever possible. Most academies do, however, have a policy that you need to cancel your class at least 24 hours before it starts in order to be able to make that class up without charge.
3. Reviews of Former Students
Independent reviews from former students are a great way to get an unbiased image of what the academy is like from a student perspective.  Are there lots of good comments on Facebook or Google reviews?
4. Facilities
When you are learning, not only is your teacher important, but a good Spanish academy should have high-quality materials and resources, as well as wifi, good lighting, comfortable furniture, etc.  On the academy's website you should be able to find photos that will help you form an idea of the school.  On the other hand, if you are in the city, we recommend that you first visit the school that you have thought of joining to get a feel of the place in person.
5. Extracurricular Activities
Not everything in life is about studying!  As important as it is to learn how to conjugate a verb, it is also important to be able to put into practice what you have learned in a relaxed environment.  Confirm if the academy in question offers cultural activities, because you will not only be able to practice, see the city and maybe a couple of museums but you will also make friends and meet other people in similar circumstances as yours.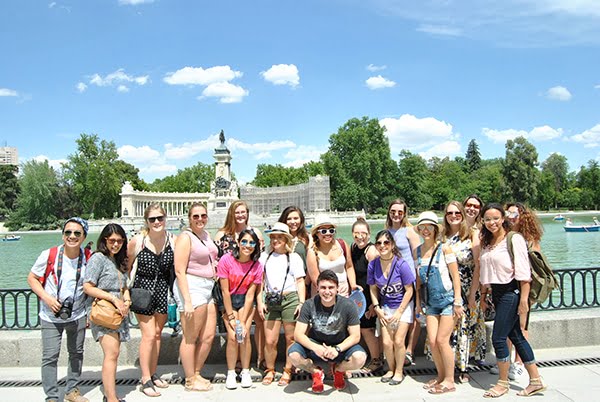 6. The Team
Do you know who is dealing with your classes and needs? Do you know who the teachers are? A good-quality academy with consistent teaching and student liaison staff will have information about teachers on their webpage and social media.  This will indicate to you that there is a solid team of professionals in charge of your instruction with the necessary training and experience in order to give you quality classes.
7. Atmosphere
It is so important to have a good time and have the possibility of socializing with other people.  Be sure to notice that the school at which you would like to enroll offers a good environment.  Access their social networks and take a look at how involved the students are, the comments they make, and that they are frequently connecting with their network of students.
Now that you know what you need to take into account in order to find a suitable school for you, start your search and join the school that stands out!  I am sure that you will have an unforgettable experience and will be mastering Spanish in no time.
LAE Madrid has a 5* rating on Google Reviews and Facebook. Our student liaison Manager, Karmen (info@ laemadrid.com), is always on hand to answer any questions you have about our academy and Spanish classes. Follow us on Instagram to keep up to date with the latest news in our school!