There's been a huge rise in the number of Indians going to Spain in the last few years and there is plenty to do in the Spanish capital, Madrid. Here we give you a list of five things Indians should know before travelling to Madrid.
1. There's lots to do in Madrid for free!
Madrid has a long history, tons of artistic museums, and beautiful palaces to see. if you are planning to explore the city, make sure you know all the details about opening and closing hours, admission fees etc. The most famous museums in Madrid are the Reina Sofia Museum and the Prado Museum. You can get into both with an admission fee, but if you plan in advance, you can get in for free of charge. For free admission to the Prado Museum visit Tuesday to Sunday from 6pm to 8pm, or Sundays from 5pm to 8pm. For free admission to the Reina Sofia Museum visit Monday to Saturday from 7pm to 9pm, or Sunday from 1.30pm to 7.00pm. Apart from this, there are several companies that offer free walking tours, where you don't have to pay anything but the tip to the guide.

2. Madrid has tons of authentic Indian restaurants
Finding Indian food in Madrid is very easy but which ones are really authentic? There are several good Indian restaurants around the city. Some of the well-known and authentic restaurants like Tandoori Station, Diwali and Swagat serve delicious north Indian cuisine at reasonable prices. Yes, you read it right, they serve north Indian cuisine and not the south Indian. Unfortunately it is very difficult to find a south Indian restaurant in Spain. So, if you are craving to eat 'Idli' or 'Dosa', you might have to cook at home by yourself. Finding ingredients to cook is not difficult at all as, you can find all masalas and products in Indian grocery stores, from chapati flour to Haldiram's alu bhujiya, although you will pay more here in Madrid.
3. Easy and cheap transportation
There are no rickshaws in Madrid and taxis can also be expensive if you're travelling around a lot, so the most common way to travel around is on public transportation. The metros and buses spread all over the city and connect all the most important places. Metro stations and bus stops have clear information about the routes and connections. Normally, a one-way metro ticket can cost you between  1.50€ and 2€. They also have monthly passes that are very cheap, easy to use and give unlimited access to buses and metros for a month.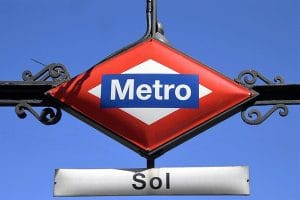 4. Madrid is extremely safe!
Madrid is ranked in the 12th position in the safest world cities to live list, according to the Safe Cities Ranking 2017. You can walk around the city without being worried during the day or night. Like all other tourist cities around Europe, you can get pickpocketed in crowded areas if you are not alert. Just keep your eyes open while roaming around and you will be fine.
5. It's so easy to make friends
Madrileños (people from Madrid) are super friendly and helpful, so practicing your Spanish and making friends is easy! Madrid is a vibrant, multinational city so you can meet people from all over the world
When doing Spanish classes at LAE Madrid, you also get to know your classmates and it's a great way to meet people during your time in Madrid. Check out our intensive courses and especially our cultural activities, which are fantastic for seeing the sights of Madrid.
Madrid is a fantastic destination for Indians travelling to Spain. If you would like more information on tourist visas or study visas to Spain for Indian nationals, email [email protected].